Buy high quality, low priced Mountainbikes at Sportalle Shop
Mountainbikes (in short: MTB) are bikes dedicated for riding in mountians or cross contry terrains. They are equiped with width tyres, right handlebars and usually 21 to 27 gears. Mountainbikes are usually devided in Fullys and Hardtails. A new trend of the Hardtails are so called Fat Bikes with a extremely width tyres (26x2,4).
Fully have front fork suspension as well as rear suspenssion of the frame.
Hardtails are only equiped with front fork suspension .
You can find at www.sportalleshop.com the perfect Mountainbike for your family. We have also big choice of kids MTBs.
Cross Country (XC) racing with its emphasis on climbing as well as speed and endurance, demands bikes that are both lightweight and efficient. Suspension is present only on the front forks. Recently the use of advanced carbon fiber composites has allowed engineers to produce bikes under 10kg.
Subcategories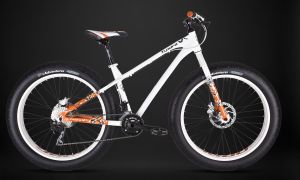 Fat bikes are special class Hardtail bicycles designed for adventures.
Their enormous tyres usually 26x2,4 get through snow, sand, mud and rough terrain like no other bike. The fat bikes are getting popular not only for a rent or MTB clubs but also more and more people adicted to adventures have these bikes as additon or even alternative to their MTB. You can often see the fat bikes also in cities or resorts near the sea as the sands riding offers memorable experiences. You have the feeling of rinding a motor bike but driven by your own power. Sands or mud riding combines the features of downhill in apsect of coordination however the concentration should be more like a road bike as the performance might play significant role in a real competition.
Driving fat bikes just for fun is also one of the big advantages of this Hardtail class, due to the fact that the frame size is not that important to get the full experience. We say the fat bikes are more like a tank than a bikes and whatever we add it is better to explain as "try it".
The fat bikes developped in last few years are no moving also to the e-bike segment since more producers are focusing on e-mobility so we can already see pedelecs or fat bikes powered by Li-Ion battery often with 600W engine due to the all terrain application.
Products